Azen Glass: The Glass Art of Helen Starkweather
From childhood, my earliest memories are of the sunlight that streamed in from the windows in my room...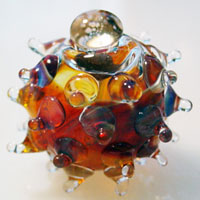 I remember my feeling of wonder and amazement from watching the colors change and shift as the light passed through some objects, and reflected off of others. Sunbeams that broke up into soft rainbows, while others created shadows and shades that changed the hues of the objects in their path.
To me, light is a vibrant, almost living, thing in itself. Over 25 years of professional artistic work, I have tried to explore every media that would allow me to be able to capture this simplest, yet most complex, living essence the way I perceive it. From brightly hued acrylic painting, to computer graphic arts, to manually melting and forming hot glass, I have attempted to encapsulate and project my innate sense of the vibrancy in 'living' light, the spirit of all natural things.
I also want my art to uplift. My explorations are not of the depth of the human psyche, but the very simplest state of our being, before any angst appeared. When we peel back the layers of subconscious memory, the earliest possible imprint any human can have is the safety and comfort of the womb, where warm light was the first connection, the first contact, with the brand new outside world.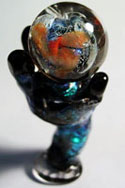 Using simple forms that a child might appreciate, natural, organic, real but a bit surreal and always colorful, my goal is to make people smile when they see any of my artwork. I believe art is a way to perceive things, and the simplest emotions, joy and delight, are the best emotions of all.
Borosilicate Glass allows a fuller expression of my direction than any other media I have yet found. I want everyone who looks at my creations to feel as I did when I looked up and fell in love with the rainbows shifting on the walls of my room. I hope my art can make you smile too.
I personally make each piece of my glass works by hand out of my small studio in Orlando, Florida.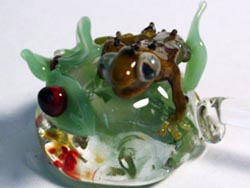 Thanks for stopping by!
Helen Starkweather
Gallery Links: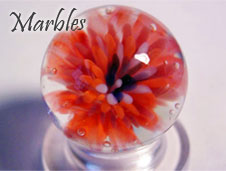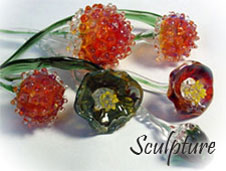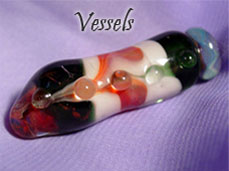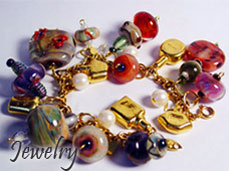 News!
Sept-Placed in Bead and Button Bead Dreams 2013: My Entry
2012- I have been very behind on keeping up with news here, so here's an update! The last few months, instead of focusing on glass, I've been exploring a new passion... rocks. I've always been a creative person, and inspired by nature. Over the last few months, I took a much closer look at what NATURE has created! I started a small rock blog, which will take time to add to, but you might enjoy it too, CLICK HERE for MY ROCK BLOG
2012 May - Orlando Mini Maker Faire
I took part in the first Orlando Mini Maker Faire, and wow! What a fantastic success! It is far beyond an art show, encompassing such a range of fantastic exhibits, I can't even describe them all! They say that the annual Maker Faire in NYC is a gigantic event that is participated in Worldwide, and Orlando got a GREAT start on catching up with our first Mini Maker Faire here. My son, Liam,made an exhibit of a 'strand beast' that landed him in the local paper too! What an exciting event, and I totally look forward to next year!
2012 - If you are local in Orlando, please check out the Orlando Museum of Art!
It is a really wonderful museum, with frequently changing exhibits, and a great place to commune with your own inner muse. You can also see in person a selection of my pendant work at the Gift Shop inside.

2011 - Oct - Just put up my page for Handblown Glass Ornament Pendants! For Sale!! Click Here.
Got a new GTT Scorpion torch, still working on perfecting vessels.
Jan 2010 - My torch is currently at GTT for cleaning, so I haven't been working much glass lately:).