2013 - Year in Review
This is the year I quit smoking by discovering Vaping!!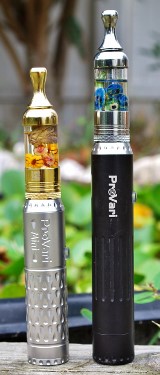 What is vaping? In a nutshell, it's 'smoking' diluted nicotine in water vapor using various personal vaping devices, also known as E-cigarettes. The reason I don't like using the term 'e-cigarette', is that people think they are the little cigarette replacements you buy at 7-11. Technically, they are called the same thing. But what I use are much larger units that I directly add 'juice' to.
Juice is diluted nicotine in vegetable glycerin and propylene glycol. No, not the stuff in anti-freeze, the stuff used as a dilutant in perscription asthma inhalers. I mix my own 'juice', so I know exactly what's in it. It contains nicotine extract, diluted in vegetable glycerin, water, and baking flavors (the kind you use to make desserts and food). That's it!
You put your juice into a 'tank' to store it for use. In the center of the tank, there is a metal tube called a 'cartomizer' or 'atomizer', which holds wicking material (like a cotton batting), and a metal wire coil. The cartomizer heats the 'juice' in the tank. The tank is attached to a small battery, known as an APV, which sends current to the coiled wire in the cartomizer, which turns your juice into vapor. Thus the term 'vaping'. The process is very similar to what a fog machine does. Makes steam. It's genius in its simplicity.
And, just like that, NO MORE TAR for my lungs, and I am away from the other 499 toxic chemicals in a cigarette, while still getting the nicotine I am addicted to, and which helps my brain function better.
Well, with my new enthusiasm for vaping, and my great need to personalize my equipment because I can, I started making tanks and drip tips (this is the tip you suck through... what's cleaner than glass?).
The above is an example of n APV, comprising of the battery, the atomizer, the tip. In the photo above, instead of decorating the tank, I decorated the inside of the tank with small pressed murrini. Some closeups of the above decorated tanks.
I progressed to making my own cartomizer tanks... which look like this:
More Tanks:
| | | |
| --- | --- | --- |
| | | |
| Tank 1 | tank 2 | tank 3 |
| | | |
| tank 4 | tank 5 | tank 6 |
I'm still working on new tanks and tank types, and will update as I go. I'm really excited about what I plan to do with this in 2014!!
Bead and Button Bead Dreams 2013
This year, I entered the Bead and Button Bead Dreams Competition for the first time since 2009. My marble set was called "Silver Vortex" and explored the different colors that you could bring out in silvered glass. Apparently, the liked my marbles (am a bit embarassed by my novice wire-wraps), because they put them in the Bead and Button show as top 10! Click here to go to Bead and Button's site

One of the Show people was nice enough to help take photos of my entry in the Exhibit Hall at the Show because I couldn't attend. Yes, my marbles are the teeny things next to the gigantic blue ribbon winner - which was pretty amazing looking!! :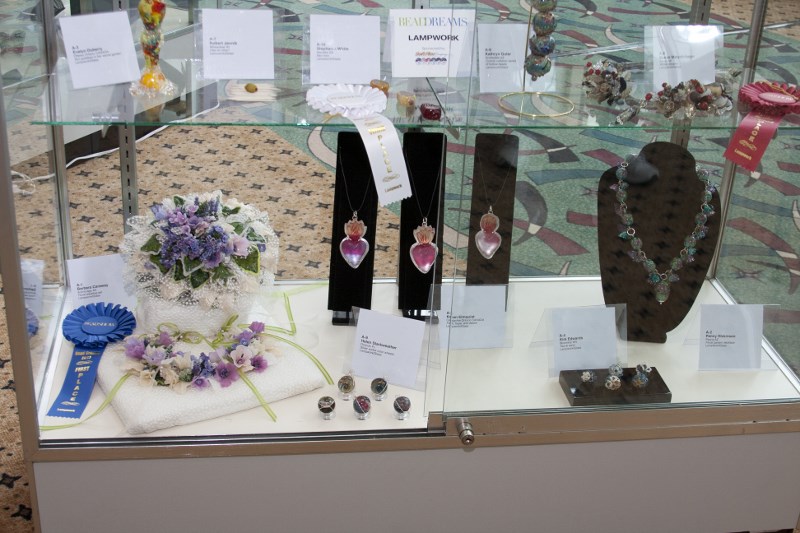 Collaborations with Master Silversmith Steve Ferenz
In 2013, I made some collaborations with master Arizona Silversmith Steve Ferenz. I sent Steve some marbles and glass Cabochons, and he made what he thought would work with them in his signature silver. Wow! I cannot take photos that show how beautiful they turned out, just STUNNING!!
If you want something incredibly special for someone, Steve will happily work a custom piece for you. Let me know!!