Vessels are my favorites. As a glass collector myself, I am always comparing my abilities and work to the various vessels made throughout history, and trying to find my own voice in that giant chorus. I hope someday I can find a niche as a worthy contributor.
I create my vessels in 2 forms, the one you see to the right is made on a mandrel, with a 'vial' sized interior. These are free formed and organically shaped. I make them in both free standing and rounded bases for hanging from pendants and dangles.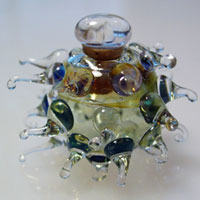 The other type is my specialty, to the left, a blown 'thistle' shape. It is one of my favorite and most comforting shapes. This is a form that is oft repeated throughout nature.
On land, you see it in a dandelion thistle, a pineapple, an orange, many kinds of seedpods, a human womb. In the sea, you see it in the form of anemones and sea urchins. I love this shape, and I love looking at it and making them. They are also the perfect vessels for your finer oils and perfumes.