2011 - Hand-Blown Ball Ornament Pendants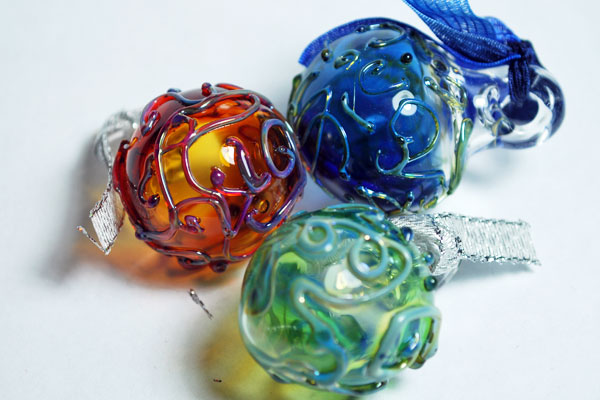 These are completely unique hand-blown borosilicate glass 'ball' ornaments. Perfect for wearing as a pendant, or decorating a miniature Christmas tree.

Each pendant is handblown by me in my small glass studio in Orlando, Florida. They are made of silvered borosilicate glass, which means that in different lighting, the colors shift and change in astonishing and breathtaking ways. All my glass work is properly kiln annealed for maximum strength and durability.
Because they are individually hand blown, each pendant is completely unique. The photos do not show how the colors dance and change in different lighting, they are much more adorable in person!
Each Ornament Pendant is between 1" to 1 1/2" in diameter. The loop size is a large .5 mm in diameter, so large enough for most chains. It is the perfect size for a pendant, or to hang from a small christmas tree as an ornament.
I am also happy to take specific color requests. If you are ordering multiple balls (for an extravagant miniature Christmas tree perhaps), you can request an assortment, and I will ensure that every single ball has different colors).
Please email me for specifics or quantity discounts.
I offer 4 types of Ornament Pendants - Scribble Balls, Spiral Balls, Thistle Balls, Gumdrop Balls. Examples of each are shown below:
Scribble Ball Pendant Series
Scribble Balls are blown glass balls with hand applied raised silvered glass stringer work. These are carefully partially melted in so they stay raised in the glass, but very strongly attached. Each ball is completely unique, but the scribbles are symetrically balanced for visual appeal no matter what angle you are viewing it from. They are beautiful 360 degrees!
I offer these in 3 main colors. Because every pendant is made to order, I am happy to accomodate special color requests.
______________________________________
Amber Scribble Pendants - Amber base w/ Black Pearl Scribbles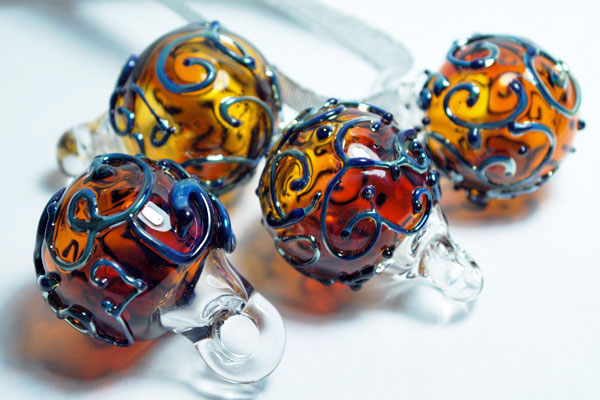 Cobalt Scribble Pendants
- Cobalt base w/ Black Pearl doodles

Pink Scribble Pendant
- Pink base w/ Black Pearl Scribbles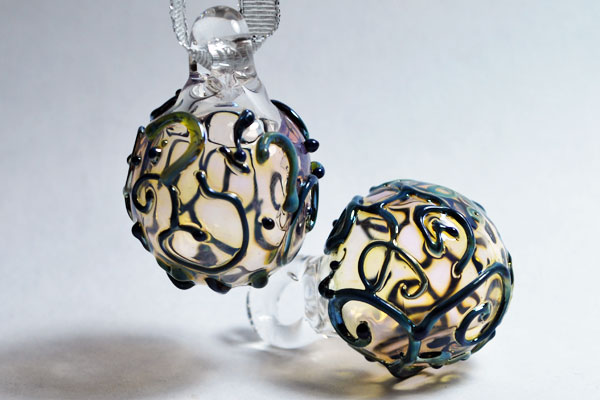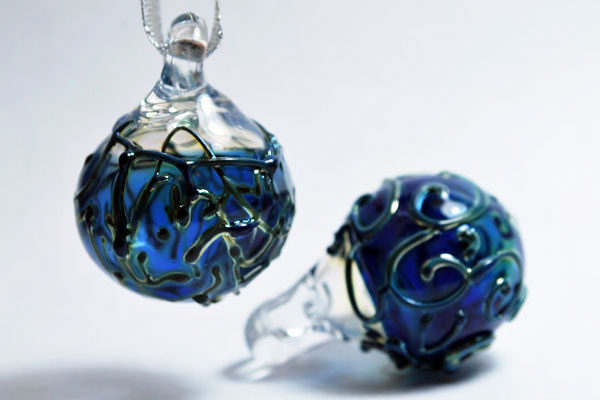 Green Scribble Pendant
- Green base w/ Black Pearl Scribbles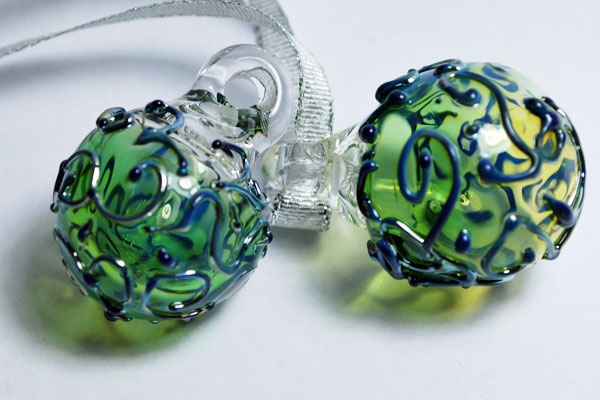 ___________________________________________________________
Spiral Ball Pendants
Spiral balls are made with the most exotic glasses, colored with precious metals, with a clear glass 'spiral' overlay. The overlay serves to enhance the colors underneath, but also seal in certain effects that changing the flame chemistry will produce on silvered glass. I can make these in a huge range of colors and effects. I make 2 main types, Silver colors, where the colors come from the base glass itself, or Sparkle colors, where the colors come from sparkled glass that look like glitter (but are really silver flecks).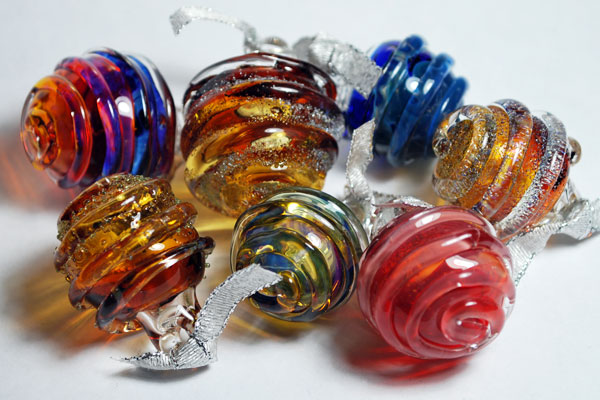 Amber Spiral Ball Pendant
- Silver Sparkle

Spiral Ball Pendant - Triple Pass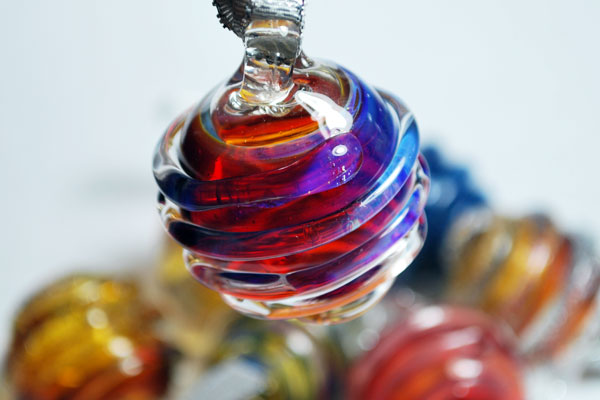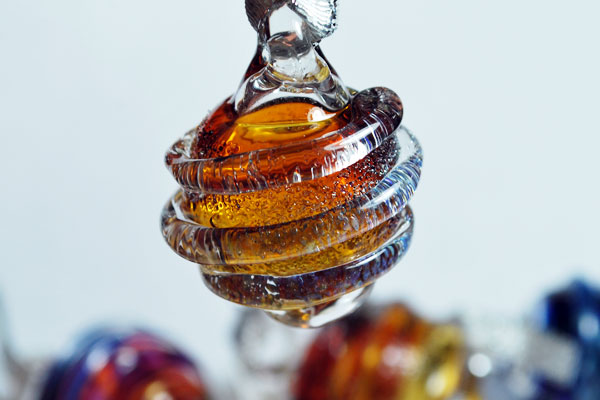 ____________________________________________
Thistle / Atom / Bucky Ball Pendant
These are my staple design in small Pendant form! They are still my favorite to look at and touch, because this shape represents so many things in nature. From single Atoms to clustered atoms (Buckyball C60 carbon) to the Sun, and seen everywhere in between, I call them 'thistles', because to me, the shape is its most significant in a dandelion seed head. I think it's the most universal shape there is, round, but pointy, smooth but sharp, and viscerally and intrinsically attractive.
Please note, the thistles are pokey but not sharp, so try not to fall asleep wearing one of these! The bases are all silvered glass, most with graduating color effects from top to bottom.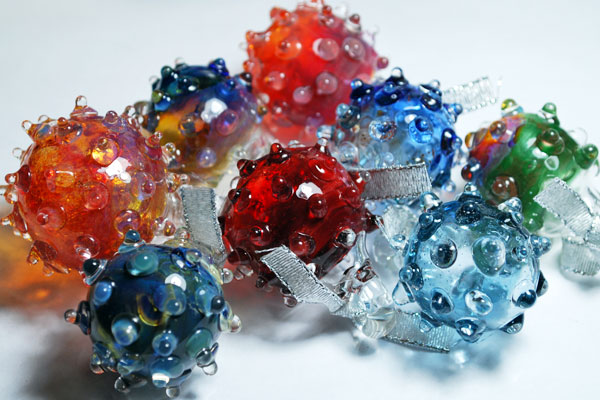 Thistle Ball Pendant - Sunrise
-graduating shades of yellow, orange, pink, red
None of these photos are retouched for color or imperfections

Thistle Ball Pendant - Blue Moon
-The colors on these vary from a pale ivory to deepest clear blue, but many color swirls in between.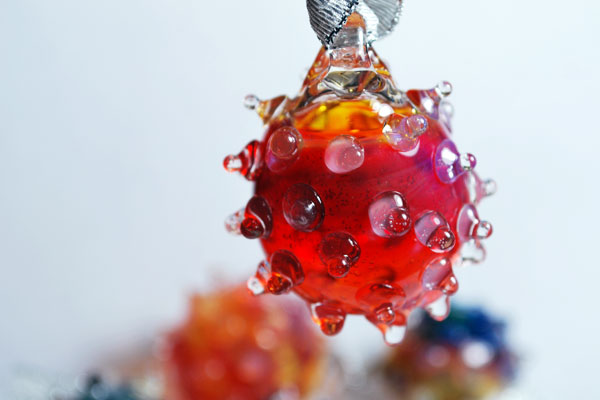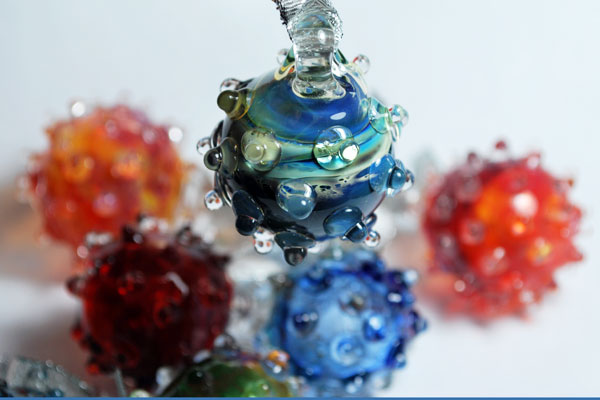 ____________________________________________
Gumdrop Ball Pendants
This series of pendants were inspired by the look of gumdrop frosted candy. I make them in every color you can imagine, and the 'frostings' which are liberal dustings of frit melted into the blown ball, vary in color and sheen and size. These are much simpler balls than the above types, and should be worn with smooth clothes because the frit may 'catch' wooly clothes. They are very cute!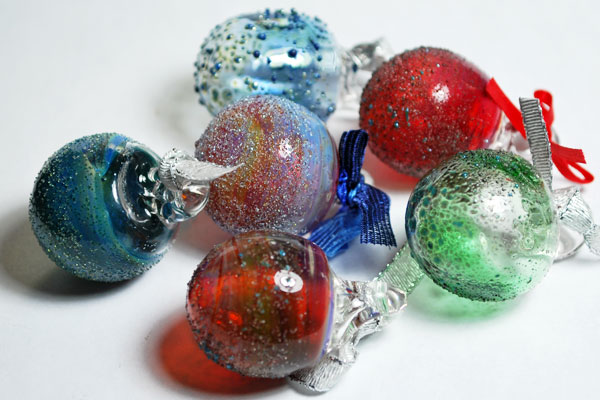 Material Notes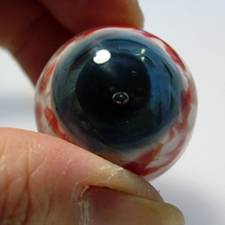 Each piece of glasswork is individually handmade by me in my small glass studio in Orlando, Florida.
My chosen glass type is borosilicate. This glass is familiar to most, when manufactured by Corning, as Pyrex. It is the strongest, most durable glass we can use for art, and could possibly outlast humanity itself, if not broken.
Borosilicate glass is extremely strong and resistant to heat and chemicals. It is more difficult to produce, and the colors in the glass come from precious metals, so it is a more costly media than other forms of glass. Pure .99% silver produce the rich irridescent blues and greens, while 24K gold produce golds, pinks and reds.
Everything I make is properly flame stuck and kiln annealed, in a digitally controlled kiln, sometimes several times over many days to ensure full color striking and for maximum hardness, strength, and durability. The fact that these balls have air inside because they were blown creates a tight vaccum inside the glass that helps to strengthen the form from even normal glass breakage. While it is still glass, these are more likely to bounce then break if dropped, borosilicate is tough stuff, and the air trap makes it even tougher!
Borosilicate should last beyond centuries, and can be passed down forever.
Borosilicate glass will easily withstand temperatures up to 1600 degrees without melting. Another advantage of borosilicate glass, unlike most other types of glass, is that it is usually repairable if cracked or broken (assuming all pieces are together). I warranty my work, so if you have a problem, I will repair or replace your piece so long as I'm working in glass.
Exploring all the nuances in borosilicate glass is a journey I hope you can share with me.
_________________________________________________
If you see anything in my website gallery that's not listed, please feel free to email me. If it's still available, I can put it in my Etsy shop for you. Or, just email me, I love to hear from people who love glass too!

I hope that you enjoy looking at my pieces, and thanks for stopping by!

Helen Starkweather
Email me