Custom Bottles or Jewelry
Maximum size 1/4 oz- blown vessels
1/5 dram vial sample holders
Each and every vessel is hand blown and shaped, so there are no 2 that can be identical, only close.
Pricing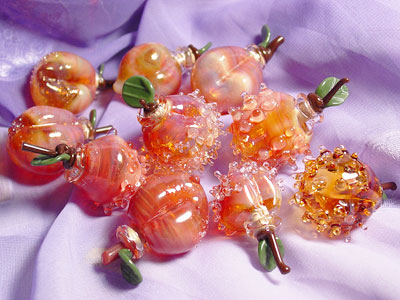 $250 for prototype development
- this includes 4 bottles made to your specs for color, type, size, shape and style. Or, they can be 4 variations so you have a larger selection.
- these 4 bottles will be shipped to you for decisionmaking and are yours to keep.
Once we have decided on the final bottle for production, the minimum quantity is 5 pieces at a time, price per piece will vary based on type of piece and complexity, ranging from $26-$120 each. You will be quoted with each prototype sent.
If 4 prototypes are not enough, then another $250 will be due for another set of 4 prototypes (if you wish to see the full range of potential tops and styles for example).
Options
Bottle types:
Standing - flat based w/ optional clear glass base
Hanging - for use as a pendant, bottom is rounded or pointed
Glass types:
Borosilicate - Pyrex glass
Pros: maximum hardness and strength, crystal clarity
Cons: limited color selection
Soft glass - Soda Lime Glass
Pros: standard glass bottle material
Cons: weaker, easier to break, but largest possible color selection
Bottle Design: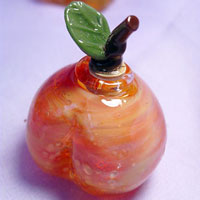 Free hand blown
- these are blown to shape from glass tubing, sizing/shape is determined by eye.
Pros: blown directly from glass tubes, there is no possible residue. Maximum uniqueness, very smooth.
Cons: the glass will always be thinner and more delicate. Also, the size and shapes will have the most variation, both inside volumes and outside...there are no machines, presses or tools used, every single bottle is unique.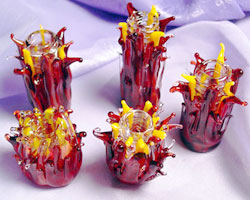 Coil Wrapped
- these are wound on metal rods for precise control of INSIDE dimensions (ie. vials), or where precise inner diameter is important.
Pros: Inside dimensions are identical. Glass can be thicker and heavier. Entire bottle is more symmetrical. More design and color possibilities.
Cons: Openings must be the same size as the inside diameter (smaller containers possible).
Bottle Tops:
There are 4 styles of tops I make, see specific images above. The prices will vary depending on complexity and difficulty to make: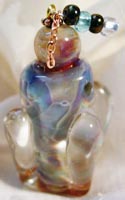 1. Bead & wired top.
this is a bead top, with wire that runs through the cork, with or without attaching chain, neck wiring and little bead dangles. Most labor intensive option.
Advantages: most sophisticated, wire in cork makes it stronger.
Disadvantages: more labor, more 'jewelry' like.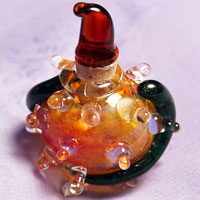 2. Glass/Cork Top.
These are handshaped glass tops GLUED to a cork. The glue is pretty stable, and if for any reason the glass comes off the top, they can be reglued, and more importantly, the cork can be replaced.
Advantages: Less expensive. Cleaner lines (only glass and cork showing). Can color match stem/top glass to bottle. Cork can easily be replaced for any reason, or even to change the scents in the bottle to remove any old remnants, by simply removing the top and gluing it to a brand new cork.
Disadvantages: the cork might come loose from the glass (solution is to reglue). The cork may not FULLY seat into the opening as each vessel is handmade. Cork is an organic material that can deteriorate over time. Also, this is not the best solution for Essential Oil heavy perfumes, as they can deteriorate the glue.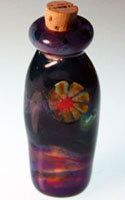 3. Plain Cork Top.
- as you can see, the cork is still an elegant, if simple solution.
Advantages: very inexpensive. Precise sizing of neck is not as critical, so long as cork fits. Cork can easily be replaced anytime. "Country" or more 'simple' looking.
Disadvantages: not as elegant as any of the above solution.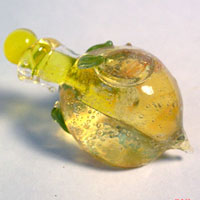 4. Glass Dropper Top.
This is the least practical and most expensive of all the tops, because there is no way to guarantee a tight seal with such a small glass dropper that is hand shaped.
It IS still useable and will hold liquids, but there is less consistency between bottles.
Most perfumes are in machine made glass bottles, where the tops and bottoms are fitted by mold. Handmade bottles that are hand shaped require each dropper be made as a separate object, so uniformity is an issue. These types of tops are best for display bottles, not real use.
If you want this option for the professional look, you can ship the bottle separately from the perfume itself (better idea anyway due to the sealing factor. MANY of the most expensive perfumes in the world are shipped in a plain bottle, separate from their display bottles. This is especially true for lalique or baccarat bottles from the most expensive perfume houses), and give them the option to fill it or leave it as a collectible.
Cork Notes:
There are real advantages to cork, not the least of which is the 'wicking' effect. The cork will absorb the scent and gently 'wick' it to the top, like a wine cork because they are partially exposed at the necks. It's also a GREAT way to wear a perfume you love to smell, but doesn't work on your skin. A drop or 2 in the vessel will last all day if you wear it around your neck.
Also, the cork itself can be replaced very easily, a broken dauber or glass dropper cannot, so this is a really practical solution. But by nature, cork is more delicate, especially very small corks.
The lowest price is a plain cork top, because anything else is making 2 separate pieces of glass to fit.
_________________________________________
Process
1. let me know you are interested and ready to begin. Send me drawings, ideas, colors, specs for the bottle you envision having made.
2. Send me $250 for the prototype development. The time this will take is roughly 1 - 2 weeks depending on how fast we arrive at a final.
I will make the prototypes 1 at a time, with complete tops, and you will proof each vessel photographically. We discuss changes and make the 2nd vessel to your specs.
If you are pleased with the first or 2nd one, I will still complete the 4 vessels, the remaining ones being the ones that you designated as your final. All 4 vessels are shipped to you and yours to keep.
Prices for the final will depend on all the above factors and will be quoted at the time protypes are completed. The current range for custom bottles in sets of 5 are from $26 per piece (very basic with cork top only) to $120 (complex vessel with glass top, silvered or dicroic glass and a difficult or glass heavy design).
3. You may order as many as you wish of the final prototype, at the agreed upon price, but minimum per shipment is 5 pieces.
Any perfume bottle developed for you will NEVER have the design duplicated for another client. This is a guarantee.

Helen Starkweather
Email me